SHIKI-no-NIWA Garden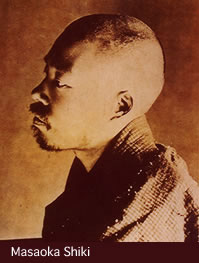 Masaoka Shiki is so famous for Haiku poet who typified the Meiji-era (19th century).

His poem
"biting into a persimmon
resounds
Horyuji"

was composed when he traveled in Nara in 1895(Meiji 28).
Masaoka Shiki stayed overnight at Taizanro Japanese Inn at that time. We found the old persimmon tree which was hundreds years old at the site of Taizanro Japanese Inn (presently Tempyo Club, Japanese restaurant) and turned out that it was the persimmon tree about which Masaoka Shiki composed that poem.
There is a growing tendency to engage in Masaoka Shiki research through this Shiki-no-Niwa Garden.
In 2006(Heisei 18), we arranged the area of the old persimmon tree as "Shiki-no-Niwa Garden".
You can look back on Masaoka Shiki through the field flowers, fresh leaves and colored leaves which were preferred by him. (Design by Mr. Masaoka Akira, garden designer and grandson of Masaoka Shiki)
DATA

LOCATION

45-1 Imakoji-cho, Nara City 630-8207

PHONE

+81-742-27-7272

FACSIMILE

+81-742-27-7255

OPEN

11:00 − 16:00

ACCESS

Please get on the bus from Kintetsu Nara Station or JR Nara Station, and get off at the Imakoji Bus Stop. It is within easy access of the bus stop.

[From Kintetsu Nara Station]Bus Stop Nos.2 & 4
Bus Nos. 81,118,117,27,45,84,139,102,100,101,96,105,77,

[From JR Nara Station]Bus Stop Nos. 5 & 6
Bus Nos. 81,118,84,139,105,106,96,102,100,101,94,77,
– Masaoka Shiki's poem –
"biting into a persimmon
a bell resounds
Horyuji"

[Kaki kueba kane ga narunari horyuji]
'Taking a rest at a tea shop at Horyuji temple'

When Shiki was on his way back to Tokyo from Matsuyama he stopped in Nara on October 24. He was excited to see the area, the home of so much of the ancient history of Japan. The sound he heard was actually from a bell at Todaiji temple, so this haiku is not a true record. He probably used the temple Horyuji because the area around it is famous for persimmons, his favorite fruit, and it is the oldest standing Buddhist temple in Japan. The sound of the name, too, is more like the long, fading tones of a temple bell.
Note: This English translation and comment are adopted from "If Someone Asks…" published by Matsuyama Municipal Shiki-Kinen Museum.